Creating Stationery

Join Me In The Fun
Creating Email stationery can be explored easily via the Internet. There are many talented creators who share their gift teaching others. An email stationery is basically a background, featured prominent image, midi or wave file, and an html and java-script file. The sender writes a message and sends to the receiver. These files travel over the Internet with rapid speed.
Stationery designers snag images, music, scripts, and embedded fonts for future use. It is in poor taste to take an image which has been uniquely designed by another without permission from the designer to be used within your stationery.
Some designs are included below which will identify techniques learned in PSP. Many designers create beautiful stationery, but I want to introduce you to works that are exceptional in specific areas.
Tubes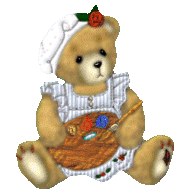 Tubes are images of transparency. Susan Holtz designs adorable teddy bears and gives them to designers to use. She uses a black and white image to start her lovely bears. Visit Susan's site. There you can view and download her cute teddy bears. Also Susan has a tutorial for making these tubes. Please sign Susan's guest book after visiting her sites.




Presets and Vectors
Presets shapes are basic shapes which can be used to make images. Kathy O. has some wonderful tutorials using the preset and vector tools. She makes gorgeous images from shapes such as circles, squares, rectangles. Click here and view stationery I made by using vectors. You will find Kathy O's tutorials challenging. I am always amazed by her creative mind. Click here to view stationery using the pentagon shaped preset. Using presets can be fun and here is another example. The stationery you viewed was done by studying her tutorials but with my added twist to make the stationery uniquely mine. Please sign Kathy's Guestbook before you leave her site. Kathy is a very special lady! She has taught me so much about using Paint Shop Pro and stationery.
The above tools are just three options used in Paint Shop Pro. Take the Paint Shop Pro link to see a table with features.
Scripts
Scripts are Html files for stationery. My favorite place to learn scripting is Raving Concepts. Patti has a collection of 200 plus scripts that you can download. Check out her photography while you are there. She posts her images so that others might use them in stationery. Take lessons in writing your own scripts by using a software program she teaches in class. Don't wait to get on the waiting list. The classes fill up fast. Sign Patti's guest book before you leave. I know she'd like to hear from you.